---
Login to GoldVisionPro™




GoldVisionPro™ Login

Log into the GoldVisionPro™ Master Control Program.

To use GoldVisionPro™, a user must Login as an authorized GoldMine® User.
·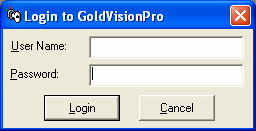 The User Name and Password are NOT Case sensitive.
·
*Click here to Understand GoldMine® User Access
If the correct username or password is not entered, the following message will appear.
·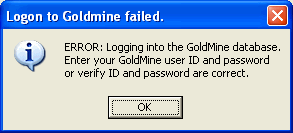 Automatic Login Username and Password entry is available in GoldVisionPro™. The following steps are required:
·
Step 1: Add a Shortcut to GoldVisionPro.exe in your user profile's Windows Startup directory.

Step 2: Edit the properties of the shortcut and place the following into the target directory after the Program and Path.

"C:\Program Files\GoldVisionPro\GVMCP.exe" /u:USERNAME /p:PASSWORD

/u:USERNAME (GoldMine® User Name)
/p:PASSWORD (GoldMine® Password)



Previous Step: Hints and Tips about Setup
Next Step: Linking Overview


SEE ALSO
Understanding Windows Profiles




© 1999-2003 GoldVisionPro™ - All Rights Reserved.




The GoldMine® Trademark is used by permission from FrontRange Solutions, Inc.